21 Sewing Projects to Organize your Sewing and Craft Supplies
Organizing is fun when you have pretty handmade accessories to help! Check out these 21 free sewing projects with easy patterns and tutorials to help you organize your home.
You can easily keep your sewing and craft supplies clean, neat, and organized with these quick and easy projects, come see!
Easy Peasy 10'' Baskets Made with 10'' Fabric Squares
Sew an easy basket with 10" squares. This layer cake leftover sewing project uses pre-cut fabrics and is fast and easy to sew. Another wonderful thing about this basket is that it is also reversible. This sewing pattern is great for sewing newbies.
Miracle Caddy That Holds Everything
The Miracle Caddy will be the miracle to your messy craft room. It is a multi-purpose organizer that also makes it easy to take all your supplies on the go. This free sewing pattern has different sized dividers to better keep your things organized. This caddy has 10 pockets all the way around, which makes it good for teachers too.
Easy Pegboard Organizing Basket Free Tutorial
Find all kinds of materials easily by putting them in a basket. This organizing basket is an easy sewing pattern you can try with any kind of fabric, not to mention that it's fat quarter friendly too! Best part is, this cute basket has a small loop at the back so you can hang them on a pegboard if you want to.]
Mini Fold Up Basket Pattern
If big baskets are too bulky, for your needs why not try this mini basket sewing pattern? This mini basket is a fold up basket that's easy to sew. It's reversible, too! How cool is that? With just a little fabric and some stabilizer, you're good to go.
DIY Case for Crochet Hooks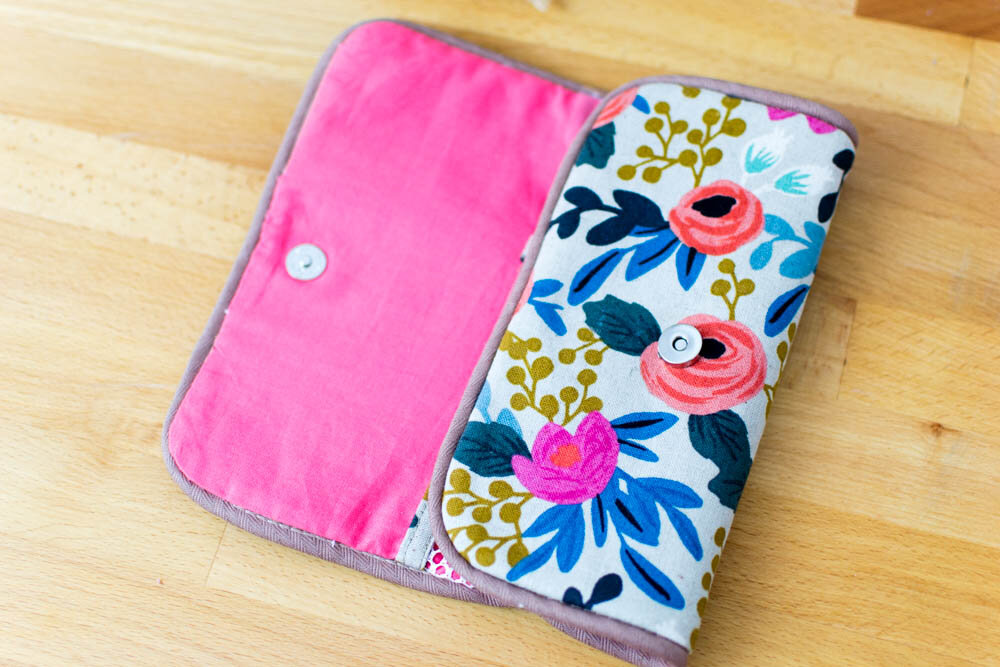 Don't lose your crochet hooks. Keep them organized in this DIY case for crochet hooks. It features a vinyl shield to protect and keep them from falling out. This case has piping around the edges, which is easy to sew on and hides any mistakes. If you don't crochet, it's fine! This case can be used with pencils, paintbrushes, markers, and more.
Colored Pencil or Paintbrush Roll from Pretty Burlap and Lace
This colored pencil roll looks super pretty and sophisticated. Using regular old burlap, some muslin, lightweight cotton duck cloth, and with an added vintage lace and a button, you can sew your own case roll to keep your kid's colored pencils. This tutorial is a fun sewing project that can also be made with regular quilting cotton.
Cute Quilted Desk Cups Sewing Pattern from Fabricmutt
Making these cute quilted desk cups is a great way to practice sewing circles. If you have cute fabric scraps, now's the time to use them. This free tutorial from Heidi Staples's blog Fabricmutt is a must see.
Easy Ribbon and Vinyl Zipper Pouch Tutorial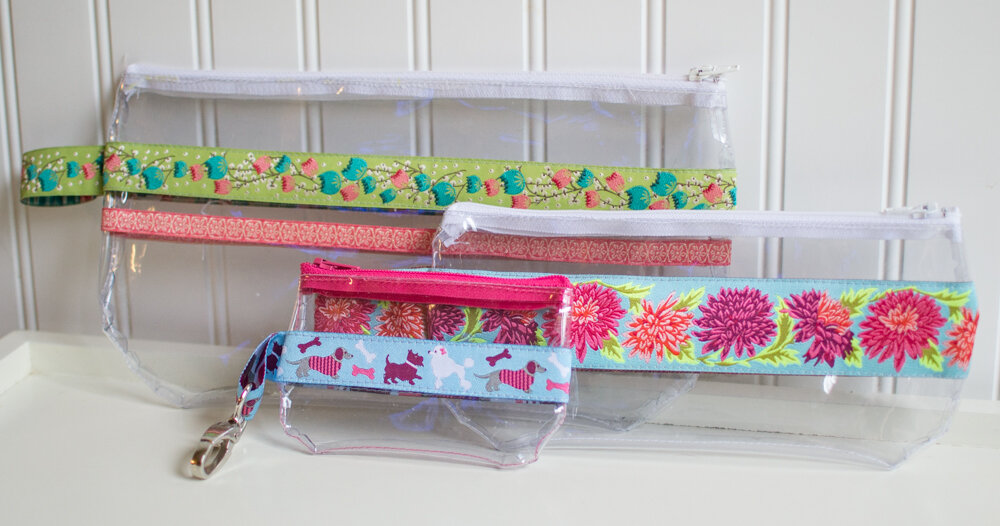 Easily see your things even when it is inside an enclosed pouch with this ribbon and vinyl zipper pouch. This zipper pouch is super quick and easy to make and it makes the perfect gift to give. It may look intimidating to sew vinyl, but it's no!. Learn how to sew vinyl with this free sewing pattern.
Hanging Organizer with Pockets for Your Car or Home
Let this hanging organizer be your next sewing project. This free tutorial will make you sew each pocket separately first before sewing them all together in a column and make your organizer as long as you want. You can also use fabric, mesh, or vinyl for the front pockets if you want. You can also add a grommet panel to the top so you can hang it wherever you want.
Easy DIY Bookmark for Journaling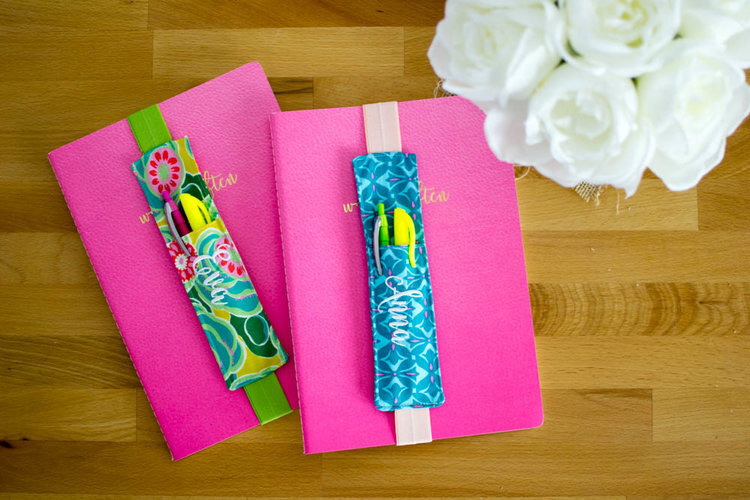 Looking for the perfect gift to your favorite book lover friend? Sew your friend a DIY journaling bookmark. This fast and easy project will help you always have a pen and pencil ready when you want to write or draw. It's so easy and uses small scraps.
Fat Quarter Friendly DIY Fold Up Basket Tutorial
If you loved the mini foldable basket mentioned earlier, you will want to try making this medium sized version using 2 fat quarters. This medium fold up basket is easy to handle, fast to sew, and doesn't waste any fabric. And yes, this basket is reversible too. In this tutorial, see what kind of stabilizer and edge-finishing method works best for you.
Hangable Basket with Chalkboard Fabric Label
Looking for another fat quarter friendly sewing project? This hanging storage basket is what you should try! This free tutorial is super easy! Making this cute basket will only take 2 fast quarters – one for the exterior and one for the lining. Add a chalkboard fabric on the front too so you can put some labels to get your craft room more organized.
Purse Organizer Made Out of Felt
Organize your craft supplies in a purse with this free sewing felt purse organizer pattern. It has two exterior pockets with pleats for more dimension and another additional two pockets on the side. Made with a double layer of felt, this organizer is durable and sturdy.
Free Boxy Pen Case Pattern
With different fabrics, make this cute zola pen case. It is a fun-to-make sewing project. When unzipped, you can see all your things. When zipped, the zipper snaps to the bottom of the case to make the handle.
DIY Sturdy Storage Totes
Save space and keep annoying moths and bugs away from your stuff. Store your craft things in these DIY sturdy storage totes. This free sewing pattern comes in 2 sizes. These totes is made from high quality quilting cotton fabric, sturdy foam stabilizer, wide handbag zipper, and some gauge vinyl for windows.
Ironing Board Cover With Handy Pockets
Yes, ironing can be part of making crafts. That's why you need to make this ironing board cover so that you'd be more organized. Having a clean board makes it more fun to press your fabric crafts. Sew a cover that fits rightly to your board with some additional handy pockets to keep your other pressing tools.
IKEA Cubby Baskets That You Can Sew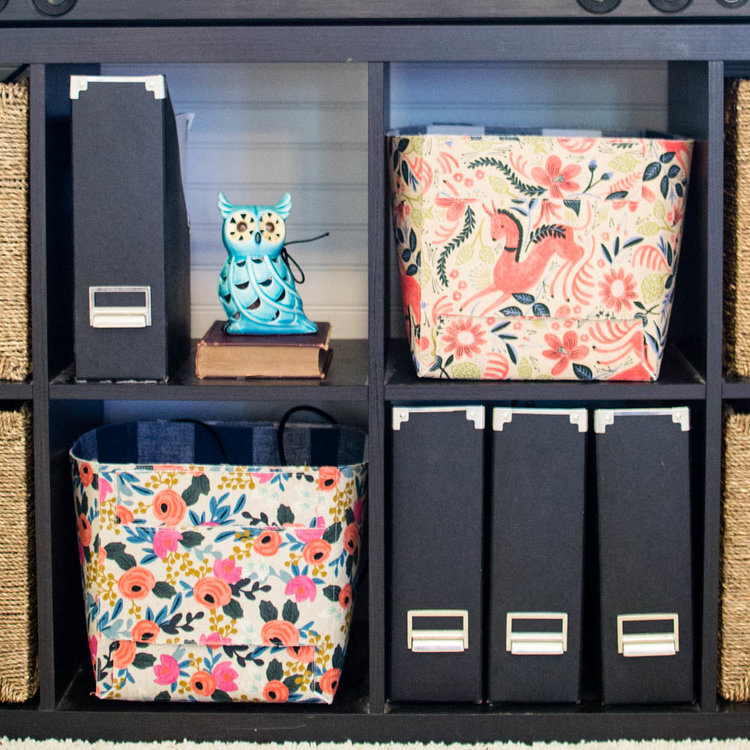 Still got bigger things to store? Now, you'll be needing this fabric storage baskets that fit perfectly in IKEA shelves and fold up when not in use. This 10"x10"x12" basket is sturdy and reversible. See how to make this with this free tutorial.
DIY Hanging Organizers for Craft Room or Kitchen
Add a useful decor to your craft room with these DIY hanging organizers. The half circle baskets can hold all kinds of things and to make it sturdy, you can use a canvas for the back or the organizer, or add a stabilizer to hold whatever you put in there without sagging.
Pretty DIY Sewing Machine Cover (or Kitchenaid Mixer Cover)
Protect your sewing machine from damage so that you'd be able to make more sewing crafts. This DIY sewing machine cover protects your sewing machine so that it will last longer. It has rounded sides, 3 pockets, and can be sewn with pre-quilted fabric, or quilt fabric and foam stabilizer.
Adorable Square Organizing Trays
A better way to organize drawers is to use these petit four baskets. With just a little bit of fabric and stabilizer, it is easy and fast to sew. Don't worry about the baggy linings, you can totally ditch them. Just see how it is done in this free tutorial.
Make a DIY Sewing and Cutting Table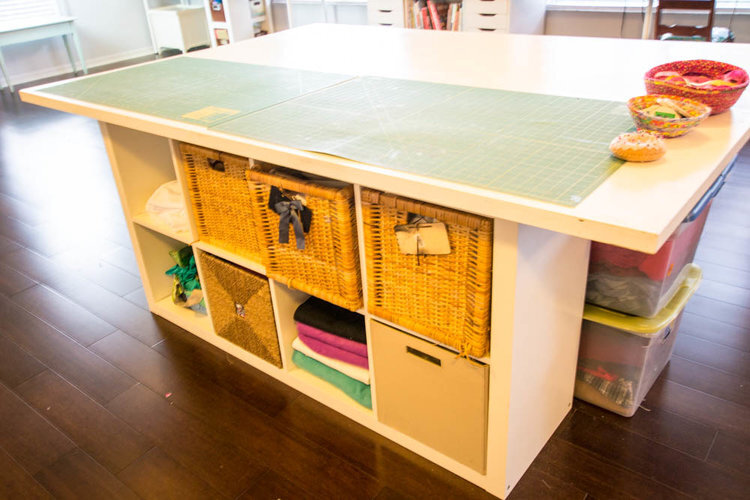 Of course, a craft studio wouldn't be complete without a big beautiful table. This DIY sewing and cutting table is made with with storage cubbies underneath. You will love it!
If this isn't enough, check out this roundup of 11 Free Sewing Projects to Make you More Organized.
Disclosure: some of my posts contain affiliate links. If you purchase something through one of those links I may receive a small commission, so thank you for supporting SewCanShe when you shop! All of the opinions are my own and I only suggest products that I actually use. 🙂